Posted by Farm Girls on Sep 20th 2019
Plus-sized women have been given so many rules for dressing that is it hard to keep up with them all. At times it can seem like mainstream fashion is only for slim people, and that makes shopping online a frustrating experience.
While other online stores may only carry sizes up to XL, shopping for plus-size women dresses and clothing online is fun and easy at Farm Girls Fancy Frills. We carry sizes from S to 3XL, so you are sure to find what you want in your size!
With summer just around the corner, we know you are looking for the perfect piece to update your wardrobe so you can be comfortable and stylish.
Here are 6 outdated fashion rules you need to let go of today
1. Plus-Size Colored Jeggings Don't Exist
Finding plus-size colored jeggings may have been difficult several years ago, but at Farm Girls Fancy Frills, we know that colored jeggings are a great way to add fun and versatility to your wardrobe. Jeggings are so comfortable that you can wear them for almost any activity, including farm work!
Not only that but they flatter every single body-type and are much easier to tuck into boots than regular jeans. The fact is that colored jeggings make it easy to get dressed in the morning. Just throw on a long tunic top, and you are ready to go.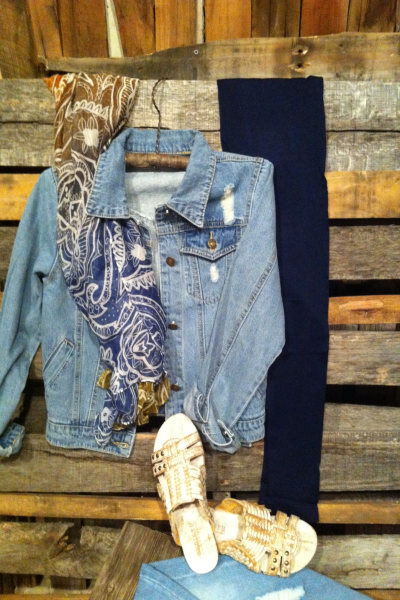 Shop: https://farmgirlsfancyfrills.com/regular-sizes/bottoms/nautical-navy-capri-leggings/
2. Wearing White Or Light Makes You Look Bigger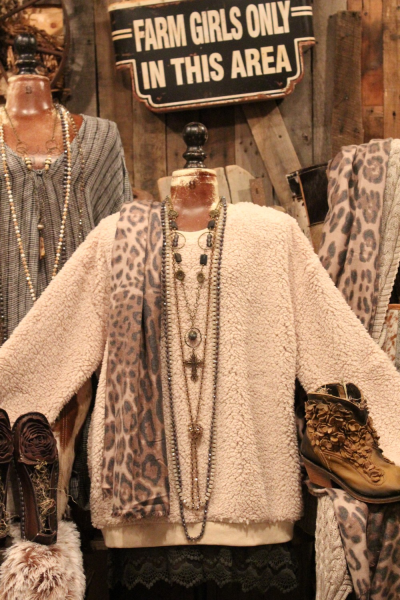 Shop: https://farmgirlsfancyfrills.com/regular-sizes/tops/pretty-songs-sweater/
At Farm Girls Fancy Frills, we know that the key to a flattering piece of clothing comes down to fit, not color. It just is not true that white makes you look larger in real life. That is why we stock our Pretty Songs Sweater in size 2X and 3X. This top looks fabulous on all women from regular size to plus-size!
3. Button Up Shirts Are Not Flattering for Plus Sized Women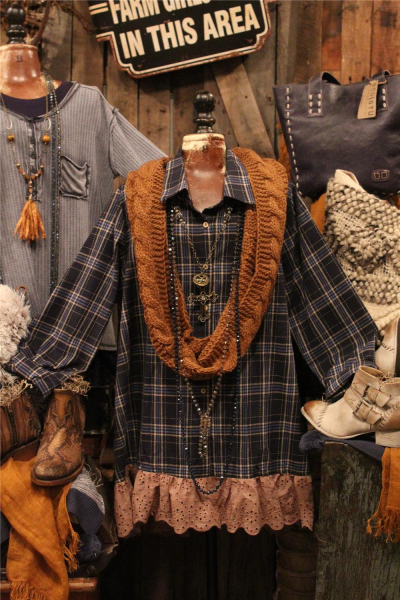 Shop: https://farmgirlsfancyfrills.com/plus-sizes/birds-eye-view-blouse-clone/
For years, fashion 'experts' have been saying that button down tops are not flattering for plus-size gals. Boy were they wrong! Farm Girls know that button-down shirts can complement curves. All you need to do is find the right size and fabric that has a bit of stretch. You can also layer your button up shirt under a cardigan for a more slimming look and to keep warm on cold summer nights.
4. Prints Are Not for Plus-Size Women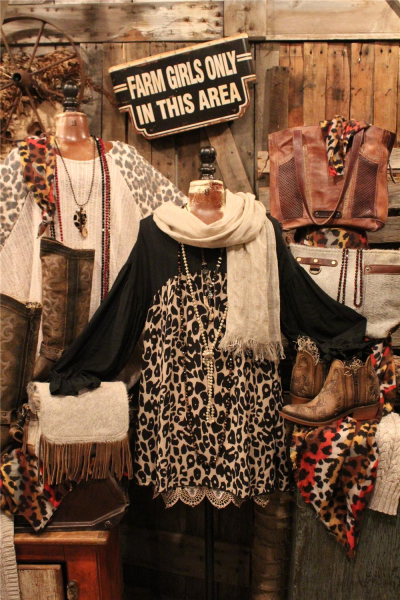 Shop: https://farmgirlsfancyfrills.com/plus-sizes/forgiveness-first-tunic/
Fashion magazines may tell big girls that dressing in bright colors and prints will draw unneeded attention to their bodies, but the reality is that plus-size women can wear any color and print if they like it.
If you are still nervous about wearing head-to-toe print, you can start with small, vibrant details on your shoes, jewelry, or bags before trying more significant pieces. When you are ready to seek out Where to Buy Plus-size Women Tunics Online, our Forgiveness First Blouse is flattering on all shapes and sizes ranging from S to 3XL!
5. Plus Size Women Should Not Wear Stripes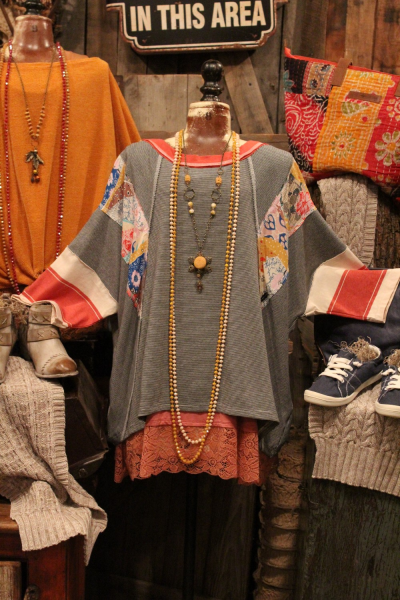 Shop: https://farmgirlsfancyfrills.com/plus-sizes/ace-in-the-hole-casual-top/
Sure, some stripes can make you look bigger, but the reality is that asymmetrical lines can make you appear smaller! IF you are looking at where to Buy Plus-size clothing with stripes, seek out stripes that angle inward to help slim your waistline and find a dark background with light stripes for a super smiling effect.
6. Size 14+ Women Should Only Wear Empire Waists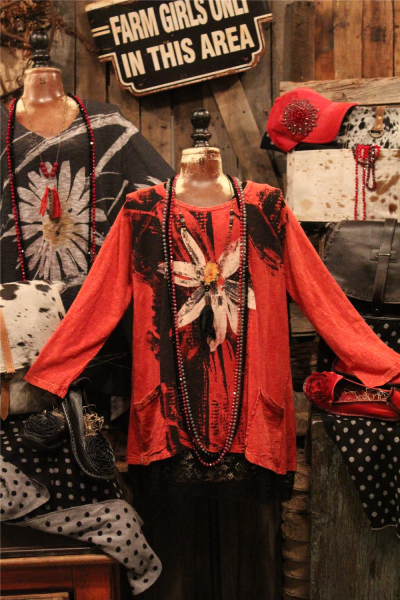 Shop: https://farmgirlsfancyfrills.com/plus-sizes/day-maker-tunic/
When you search Where to Buy Plus-size Women Dresses Online, you may find that the only available options are empire waists. While this may be fine if you are smaller-busted, however women who carry most of their weight in their middle may find that an empire waist isn't for them. Our Day Maker Tunic flatters women who carry weight in their midsection and is a fun, stylish top that can be worn every day.
Your own personal style is about expressing yourself and being comfortable on the farm, at work, or at lunch with your friends. In the past, bigger women have been told 'don't do this' and 'stay away from that,' but we know that those rules don't really apply, and we have shown you why.
We offer a wide range of dresses, leggings, tunics, and jeggings that fit all body types and styles. Now that we have thrown out all the dated plus-size women fashion rules, you can shop from the thousands of styles we have available online today.